Local & Extreme Weather: Looking into the symptoms of climate change
9 minute read
Updated on: 17th May 2020
So far we have discussed temperature increases and sea level rise, both of which are happening at a global scale [ref]. But global warming will also cause many changes in local weather patterns, such as increases in the number and intensity of heavy rains, droughts and heatwaves [ref]. In this chapter we look at these local changes and extreme weather.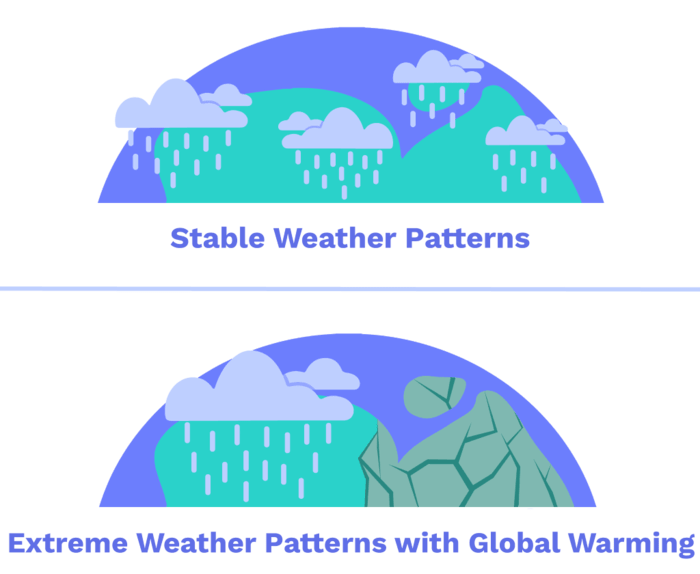 How will climate change affect precipitation?
As the average global air temperature increases due to climate change, our atmosphere will be able to hold more water vapour [ref1,ref2,ref3]. This is because at higher temperatures, water molecules on the ground or on the surface of the sea or lakes have more energy, making it easier for them to escape from liquid water and turn into gas in the atmosphere [ref1,ref2].
Therefore, in a warmer climate, the atmosphere will contain and release more water [ref1,ref2], increasing the occurrence of rain, sleet and snow [ref] (which are collectively known as precipitation [ref]).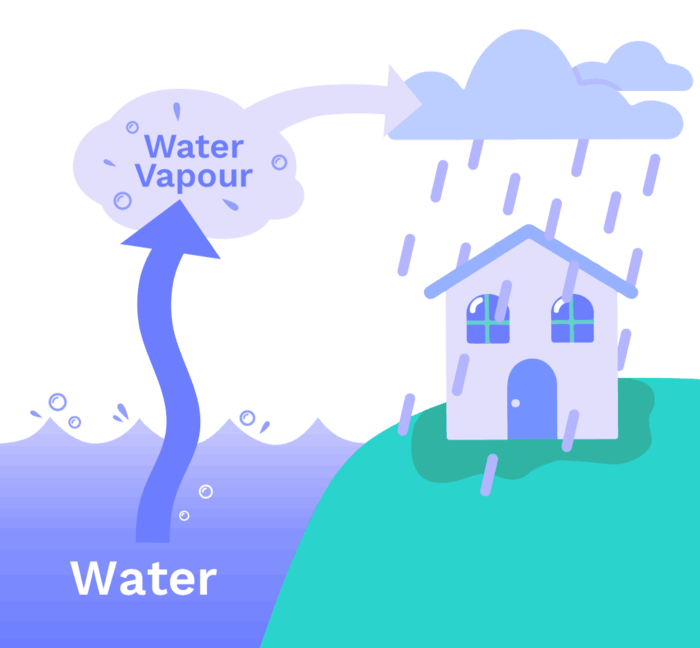 'Rainfall intensity' - the amount of rain falling at a given time in a local region - will also increase [ref1,ref2], so extreme precipitation events (i.e. heavy rain rather than drizzle) will become more likely. Evidence suggests that for every 1°C of global warming, extreme precipitation events could occur 5-10% more often [ref]. Therefore, more of the land on Earth will be at risk of flooding [ref].
How will changes in precipitation vary across the globe?
The changes in precipitation are predicted to be uneven [ref1,ref2]. Look at the map below [ref]: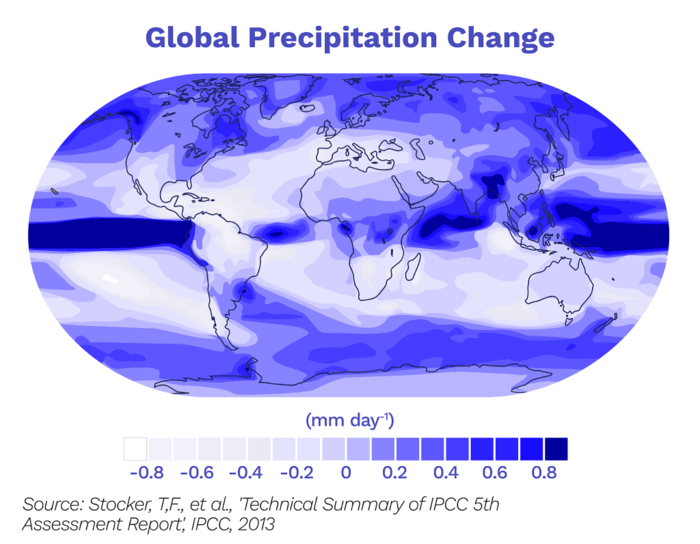 It shows how the average precipitation for 2081-2100 will be higher or lower than the average precipitation during 1986-2005, if there are no changes or additions to current climate policies [ref1,ref2,ref3,ref4]. For example, over most parts of the equator it is predicted to rain 0.8 millimetres more per day at the end of this century than it did at the start.
Can you see that some regions will become wetter, others will become drier, and some will hardly change [ref1,ref2,ref3]? In part, this is because some parts of the atmosphere will warm more than others, so they will be able to hold more water [ref].
There will also be changes in the flow of air in the atmosphere which will change the ways in which water is distributed across the globe [ref1,ref2]. For example, even less water will be brought to the deserts near the equator and even more will be concentrated in the world's tropical rainforests [ref].
Overall, land regions far away from the equator will become wetter, whilst land regions closer to the equator will become drier if they are already dry, and wetter if they are already wet [ref]!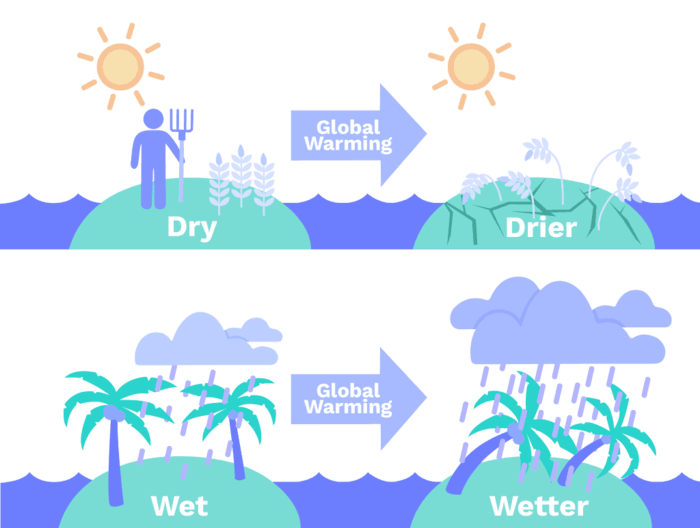 How will increasing heatwaves affect local weather patterns?
Heatwaves are periods of abnormally hot weather [ref]. Almost all parts of the globe have faced an increased number of heatwaves since 1950 [ref1,ref2], breaking multiple temperature records [ref1,ref2]. This is likely to be caused by human activities [ref], and scientists predict that heatwaves will continue to become more common [ref] and more extreme as we release more greenhouse gases [ref].