Hydrogen: Artificial Photosynthesis & a Clean Fuel
 5 minute read
 Updated on: 27 Jul 2020
In the last chapter, we saw that batteries allow us to replace 71% of oil-based fuels with electricity [ref]. This is for cars, trucks, and other land transport, but batteries can't hold enough energy per kg to make airplanes or ships electric [ref1,ref2].
Hydrogen can help here and, once cheap enough, it could also be used to fuel cars [ref]! How? Hydrogen holds 128x as much energy as Li-Ion batteries per kilogram [ref1,ref2].
In nature, hydrogen (H) usually appears as a pair of two atoms (H₂). This is also true for oxygen (O₂).
Water (H₂O) is made of hydrogen and oxygen. You've probably never seen water fall apart into H₂ and O₂, right? That's because water is a stable compound. Splitting H₂O requires energy [ref]. Therefore, we can store energy by splitting water (2H₂O) into 2H₂ and O₂ [ref] and later get the energy back by bringing them back together.
Fuel from water?
The idea is simple: use clean electricity (from renewables or nuclear) to split water [ref1,ref2] in a process called electrolysis.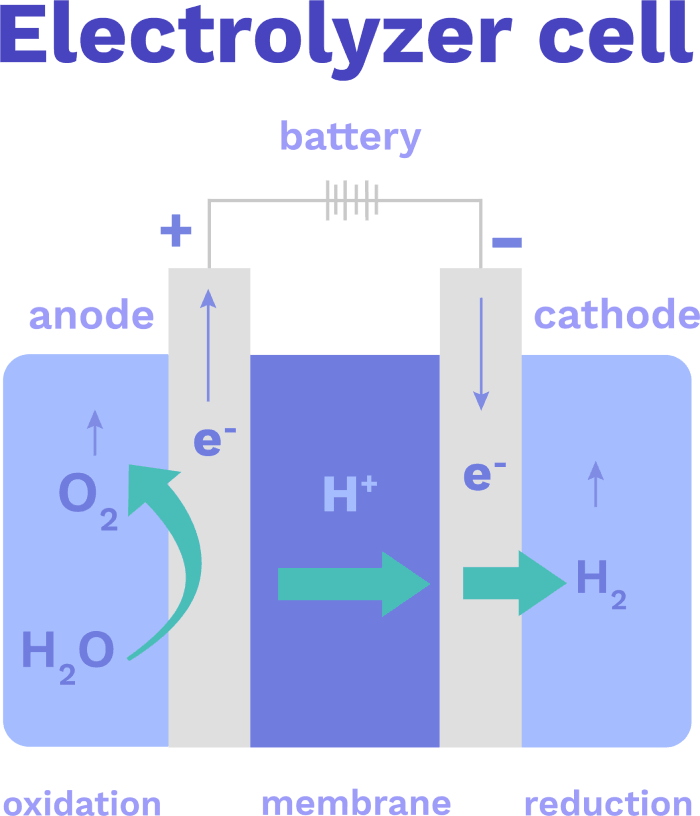 Later, we can turn the H₂ back into electricity [ref] by using what's called a hydrogen fuel cell: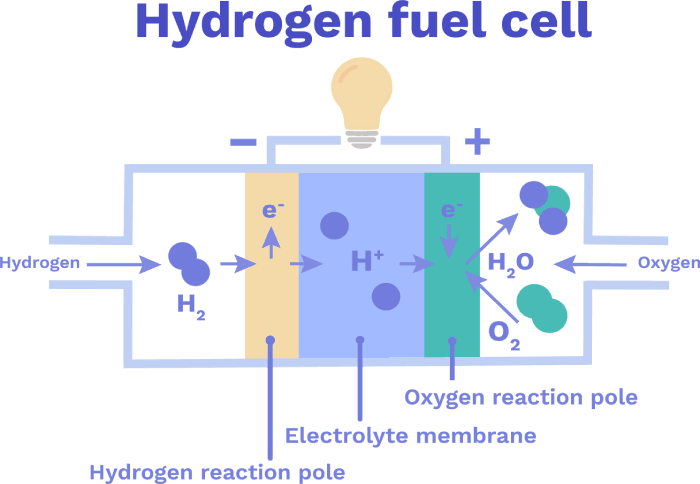 How is hydrogen produced today?
There has been significant demand for hydrogen since 1975 [ref].And because hydrogen today is made from natural gas, producing it causes 2% of global CO₂ emissions [ref1,ref2]!
Why use gas over renewables? Cost. But with innovation and further deployment of solar and wind, we could get costs down by a lot: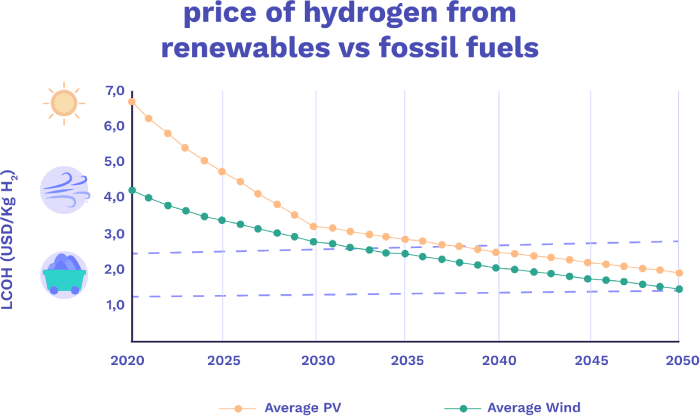 What needs to change?
Higher overall efficiency: The more compressed hydrogen we get out of each unit of energy, the better.
Cheaper electrolysis: Energy is only a part of the cost of hydrogen [ref]. Electrolyzers need to become 20-50% cheaper to fulfill the prediction from the graph we showed before [ref].
Infrastructure: Gases are hard to transport. To avoid the huge upfront cost of building pipelines, H₂ could be produced near to where it's used [ref]. This is a trade off because building many smaller electrolyzers would likely be more expensive than a few big ones [ref].
Can Artificial photosynthesis help?
What if we could do what plants do to make energy, but do it better?