Wind Power: Potentially the Greatest Opportunities for Clean Energy
 11 minute read
 Updated on: 27 Jul 2020
Today, wind only provides 0.8% of the total global energy supply [ref]. In this chapter, we'll take a look at what we can do to increase this. But before that, let's explore how wind power works.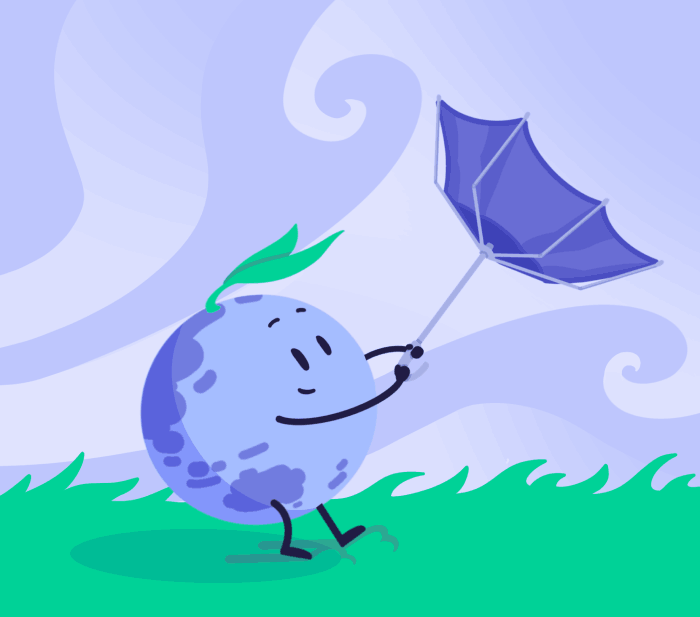 How does wind power work?
Wind power comes from large wind turbines, which turn the kinetic energy of wind into electrical energy [ref].
Most turbines have two or three blades, which are designed to spin when the wind hits them from a particular angle [ref1,ref2]. These blades then spin a rotor which powers a generator to produce electricity [ref1,ref2].
How much does wind power cost?
Onshore wind (where turbines are on land) is one of the cheapest forms of renewable energy we have, and in some cases it's even cheaper than energy from fossil fuels [ref1,ref2].
This price is expected to decrease even further in the future [ref]. By 2030, the global average cost of onshore wind energy is likely to drop to $0.03-0.05 per kWh - down from $0.06 per kWh in 2018 [ref].
As we build more turbines, the cost of building them goes down [ref1,ref2,ref3]. This is due to something called economies of scale: many of the costs of building a product (such as design) only need to be paid for once, no matter how many we build. Therefore the more of a product we make, the cheaper they become on average [ref1,ref2].
Wind power is also getting cheaper because the amount of power each turbine generates has increased [ref]. This is due to technological improvements.
Improving wind turbines?
There are two important numbers we need to look at:
Rated power [ref]: Turbines make more power when the wind is faster, right? Yes, right. But at some point this stops and faster wind won't lead to more energy. This point is called rated power, and the higher it is, the better.
Capacity factor: This is the fraction of time a turbine is running at its rated power [ref]. If we build a turbine in a region with little wind, it will rarely reach its rated power. Therefore it will have a low capacity factor. Currently, onshore wind turbines operate at only a 34% capacity factor [ref].
Until we increase this number, wind won't be able to provide us with a stable supply of energy [ref1,ref2], unless we spend huge amounts of money finding a way to store excess energy for when the wind's not blowing [ref].
With all this in mind, let's take a look at how we can increase each of these numbers.
Bigger is better - Increasing rated power
In recent years, wind turbines have been getting bigger [ref1,ref2]. The image below shows how the diameter of turbines in the US has increased over the last 20 years:
This growth means that wind turbines can now, on average, generate a lot more power [ref].